Video conferencing or video calling both terms have become very significant for us.  Be it a class presentation, an office meeting, or a lecture, they are used very frequently. Also, people have become quite accustomed to this part of the technology. 
So, when we talk about the videoconferencing applications, we can't leave the Zoom app behind. A successful application always has its alternatives as well as competitors. These competitors serve the same purpose as the original application but sometimes they are less or more modified. 
Amazing Zoom Competitors and Alternatives
We have searched for some of the best zoom alternatives along with its competitors for you.
Google Meet
Well, all of us know about Google Meet. But, maybe we are not aware of the many benefits it has. Firstly, Google Meet allows you to host or join a meeting with a good number of participants. It doesn't restrict the number of audience for you. You also don't have to make much effort in joining or creating a link through Google Meet. All you gotta do is create a meeting room and then share its link with your clients. This application is very simple and easy to use. But you will also have to pay to get its standard plan subscription. Here are some of the key features of Google Meet that you should know about.
Key Features
Noise Cancellation Option

Applicable on both Android and IOS

A Dial-In phone number when there's no Wi-Fi
Skype
It won't be wrong to say that Zoom is a successor of the Skype app. The incredible factor about Skype is that you join meetings and sessions without even signing up on Skype. Even though Skype is older than Zoom, it still has upgraded some of its features to become as rational as Zoom. It now allows you to enter more than 50 people in your meetings. It also offers its customers a very low-budgeted paid plan. The major thing to notice is that after the popularity of Zoom, Skype also introduced its light version. This version is called Skype Meet Now. 
Key Features
Call Recording Provision

Screen Sharing Option

Subtitles and the Service to Blur the Background 
Whereby
Whereby is a videoconferencing app, working with a motto to provide freedom to people, so that they can work from anywhere they like. It is one of the topmost leading competitors of Zoom and has made it very easy for guests to join a meeting or a session. A guest doesn't have to sign up and make their own accounts to get access to the meeting. But all they need is to click on the link sent to them and then join the meeting directly. Unfortunately, not more than 4 people can join the meeting unless there is a pro plan. 
Key Features
Watch Movies with Others on YouTube through Whereby

Screen Sharing Option

Customize your personal Meeting Events
Zoho Meeting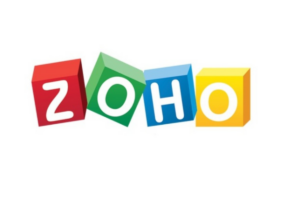 The name does sound unique, but the truth is that Zoho has marked its place in the market field in a very short period. Zoho can help you host training workshops, sessions, and classroom lectures. It also has a phone dial-in feature like Google Meet. Zoho meetings app also enables you to moderate the sessions and permits your attendees to weigh in their opinions. This suggests that it allows the conversations during a session. It facilitates you with a lock meeting option. This way you can monitor the entry of the participants and also you can host private meetings. 
Key Features
No Fixed Time Limit for the Meetings

Automatically sends Email Reminders regarding Upcoming Meetings

Itself schedules meetings in accordance with the calendar
Microsoft Teams
Microsoft Team is a competitor of Zoom and is great for large business companies. The extraordinary feature of Microsoft Teams is that it lets 10, 000 participants join a meeting at a single time. This very fact makes this application win over other competitors. It also enables you to switch the app background according to your taste and choice. If there are some unasked attendees, then you can also remove them from the session through this app. Microsoft Teams help you in recording the meeting and then sharing it to the cloud. This allows you to share the meeting with other people even after the meeting has ended. 
Key Features
High-Quality Video Calling

Digital Whiteboard Accessibility

A Helpful Raise Your Hand Feature
If we talk about the alternatives or the competitors of Zoom, then the list goes on and on. That is why we have carefully picked some of the best options for you. So, in case you are looking for an alternative for zoom, do try out any of these apps and you won't be disappointed.