We are all thrown into the realm of online learning, educators must devise strategies for engaging pupils while they are online. When schools transitioned to remote learning, one of the first things they did was establish regular video sessions with their students.
They varied according to the kids' ages and the frequency with which a teacher interacts with them. However, most instructors quickly discovered that they could not employ the same behavioral techniques that they do in a physical classroom.
This might result in a lack of student interest and participation in the taught material, regardless of age. This kind of learning is often more effective when combined with asynchronous learning.
Zoom Features For Students
Zoom plays an effective role in creating the semblance of physical class for instructors and students. It offered great features to students, making it easier for them to adapt to the transition from physical to online classes.
By using Zoom students get to enjoy the following perks.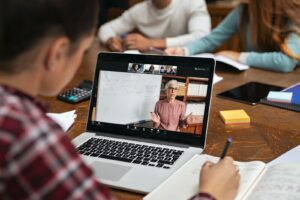 Presenting Your Screen
While you may conduct most of your discussions through video, don't forget that you may share a portion or all your screen with your pupils. This might range from posting a daily question to creating a complete slide presentation. If you already have a slideshow produced for usage in your classroom, there is no need to reinvent the wheel; start it on your sharing screen and utilize built-in Zoom capabilities.
Make Use Of The Whiteboard Tool
You may always utilize Zoom's built-in whiteboard capability. This function may need some adjustment, mainly if you use a mouse or trackpad usually. To utilize it, go to the share your screen menu and choose "whiteboard."
If you have a tablet, such as an iPad, download the Zoom software and then join the conference using your iPad. This is more conducive to sketching, particularly if you have a decent stylus or Apple Pencil.
Allow pupils to utilize the whiteboard tool to communicate their knowledge as well. If you're not using Zoom, a service like Classroomscreen.com has a whiteboard if you share your screen with your pupils.
Enable The Features For Annotation
Annotation tools are another feature that you may utilize when sharing presentations, photographs, or websites. The features are active by default in your account settings. With these options enabled, you'll be able to write over any picture, highlight certain parts of a website, and significantly enhance your students' viewing experience.
Establish Collaborative Breakout Spaces
Unlike the whiteboard and annotation tools, creating breakout rooms is not enabled by default. You'll want to activate this feature in your account settings before sharing it with your pupils. Once activated, Zoom may allocate students to rooms automatically or manually. Even if it is assigned automatically, you can exchange students on the basis of group dynamics.
You may also rename the rooms to correspond to certain groups or themes before allocating students to specific rooms. The benefit of these rooms is that they may foster more collaboration than a huge whole-group zoom experience.
Activate The Original Sound
Zoom includes capabilities such as echo cancellation and audio enhancement techniques as standard.
However, another advantageous feature offered by Zoom is the Original Sound. This feature disables all other audio-enhancing options in the app. As a result, the mic's original audio quality and tone remain unaltered.
When presenting raw audio to your audience through Zoom, activating original sound is advantageous. As a result, the Original Sound function is increasingly beneficial for courses that demand authentic, unaltered sounds, such as music lessons.
Both parties (teachers and pupils) often already make use of high-quality technology in these instances. Thus, the original sound creates a higher-resolution audio stream.
Lectures In Translation
You may have the lectures translated for students who are still learning English. The original audio will be preserved and played with accompanying subtitles for recorded classes. However, students may request subtitles in their favorite language throughout the live session.
Utilize Online Project Management Tools
Distance learning does not have to be limited to children doing digital worksheets or playing online educational games. Students may continue to work on long-term projects independently or in groups, even if the final product differs from what was typically done in the classroom.
Students who struggle with organization and deadlines may benefit from using online project management and productivity tools. Combining such technologies with video meeting check-ins enables children to practice collaborating and completing a project online over an extended period.
Final Remarks
Zoom is one of the digital life-saving gadgets of 2021, in a nutshell. Without this simple tool, we all would have spent the whole time stumbling around other impractical, uncomfortable programs.