Mainly, zoom is a videoconferencing app with numerous captivating and engaging features. Zoom has become a beneficiary to millions of people. It is being used worldwide for teaching, studying, and working purposes.  
The popularity of Zoom App
According to a report in March 2021, it has been recorded that Zoom has an estimated number of 300 million users that are using the app currently. In the past two years, the app has gained a large amount of audience. Though the app was launched in 2013, it did not become mainstream until 2019. 
Amazing Tips and Tricks for Zoom
There are always some smart and incredible stratagems that you can use while using an app. These stratagems are not only fun, but they also tend to increase your work efficiency. That's why we have listed out some of the many tips and tricks of Zoom for you. 
Set up Recurring Meeting with One URL
Recurring meetings are set regularly. For instance, if you are a teacher, then you have to take the same class every Tuesday. So, now with the Zoom app, you can automatically have one single link for your students. This setting can work with regular meetings, weekly scheduled calls, or monthly-based classes. Another benefit of this feature is that you can create links to your meetings with a no-fixed time option. This way you can host a session on an irregular schedule but with the same group of people and the same URL. 
How to Set Up a Recurring Meeting?
To set this option, all you have to do is click on the meeting icon on the top left of your screen. It will open up the schedule meeting feature for you and from there you can easily set up these recurring meeting schedules. 
Gather Data and Information from the Participants
Generally, you can only know about the name and number of the participants during your session. But, it is reassuring to know that Zoom also provides you with a registration form that allows you to collect the information of your attendees. This form can tell you about your attendee's company name, and if you want to add any extra questions; you can add them through the Custom Questions bar. The automatic setting related to this registration form can create more feasibility for you.
How to Create the Registration Form?
To automate the registration form, you need to go to the meeting icon, and that will open up a registration form for you. You can also make it compulsory for your attendees to fill that form. 
Co-Organize and Co-Host a Session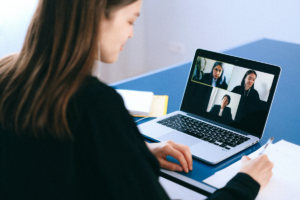 Zoom also allows you to have more than one host while hosting a session.  Two persons being in charge makes the work simple and not complicated. Many times, screen sharing becomes a problem for the team. And it becomes difficult to do teamwork on Zoom. But when there are two hosts, these technical factors can be easily managed. The co-host call session doesn't work on the web. Also, you need a pro plan subscription to activate this setting. 
How to Co-host a Session on Zoom?
Firstly, go to the settings of the app. Click on the meeting icon and select the Co-host meeting option. You can make the other person co-host by tapping on the three dots option displayed on the top of their profile. 
Create your Virtual Background
To make your sessions and profile interesting, you can choose a background of your own choice. You can choose a background according to the festival or the occasion. For example, if there's a celebration at work, then you can use a colorful background. You can also get these virtual backgrounds customized the way you want. Many freelancers have also started working on creating the graphics for Zoom's backdrops. 
How to Get these Virtual Backgrounds?
You can contact freelancers or download free templates from any background apps. Zoom also has a tab that offers you some of the very amazing virtual backgrounds for free.
Know your Meeting's Attendees
Several times, the students or the employees skip a meeting after joining it. Also, you would want to know about the attendees who attended your session or were a part of the meeting. Even if it is a training workshop, you need to know if all the registered participants have attended it or not. So, in this case, Zoom provides you with an attendee's list at the end of your session. One thing that is necessary to get the attendees list, is for you to be the host.
How to Get an Attendee's List after a Session?
You need to go to the zoom account management bar and search for the usage reports. These usage reports will take you to the meeting you want to get the attendance list of.
 We can guarantee you that these tips, as well as tricks, can help you work smart and productively. The last tip for you is to mute yourself when it's not your turn to speak on Zoom because believe us it will save you from a lot of embarrassment.