When you invite your guests over to your place, you want them to feel comfortable and have a good time. Whether you're throwing a party, hosting dinner, or arranging a small get-together, you want everything to go smoothly and make sure that everyone is happy. To do that, use these 10 useful tips for entertaining at home:
1. Create a welcoming, cozy atmosphere
Creating a welcoming, cozy atmosphere isn't that difficult. All you need to do is to make sure that there are enough places to seat, and you can bring extra seats that don't normally stay in the room. If this is not a too formal gathering for that, you can even use throw pillows as extra seats. Next, make sure that there's music playing before the guests arrive and display food on the living room table if that is where they'll mostly be. A simple bowl of nuts and almonds or a cheese board can be enough for starters. Make sure to offer your guests a drink once you welcome them into the apartment and that's all!
2. Create the playlist ahead of time.
Dedicate some time to creating the perfect playlist before you host the event. You don't have to do this all at once. You can even take days to add song by song. A good playlist could be the life of the party so take your time with this and try to accommodate everyone's taste in music. It's much better to have the playlist prepared than let the guests pick the music, which is what the whole event will come down to if you allow it.
3. Choose a theme or plan an activity.
Pick a theme. Is this a birthday party or a wine tasting night? Think about what your guests will be doing. It's never a bad idea to have some party games and board games ready. Plan an activity. This might be adults eating dessert while kids have a movie night in the other room. It could be a cocktail and poker night or a formal dinner party. One of the useful tips for entertaining at home is to choose a theme or plan an activity and let your guests know about it ahead of time so that they could prepare properly.
4. Make sure that there's enough food and beverages.
Obviously, you will have to take care of the food and beverages before the guests arrive. Make sure that there's enough of everything and arrange it somewhere where guests could easily reach it. Take note of what your guests would like to drink and eat and if any of them don't drink or eat specific food or beverages. It's always a wise idea to include vegan and non-alcoholic drinks just to be safe.
5. Pay special attention to the powder room.
All of your guests will at some point visit your powder room, so make sure that it looks good and have everything they might need. Decorate with candles and flowers, make sure that it smells great, and that there are plenty of fresh towels as well as soap, napkins, and toilet paper.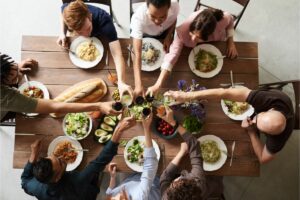 6. Get the guest room ready.
If any of your guests are staying the night, get the guest room ready for them. Make sure to tidy up, set out fresh linens, and provide them with enough privacy. You could also leave fresh towels and fresh flowers.
7. Feel free to specify when you can no longer host.
Your guests are certainly not going to overstay their welcome if you specify how long you'll be able to host them. When you invite them, point out how long you're inviting them for. You can make party invitations that state the exact time when the party starts and ends. For overnight guests, give specific dates.
8. Move around and talk to each guest.
Make all your guests feel welcome by spending a few minutes with each of them separately. Don't just stay in one place the entire night, move around and talk to each guest. Introduce guests to each other and encourage them to talk to each other. If anyone is very shy, ask them to help you with the food and drinks.
9. Give your guests a tour or point out if a room is off-limits.
One of the useful tips for entertaining at home is to give your guest a tour of your place, especially if they're overnight guests. If some rooms are off limits, you can point that out and offer an explanation such as the room being a work in progress.
10. Enjoy yourself
Most importantly, make sure that you are having fun and your guests will too. Relax, have a great time, and remember to be flexible and easy-going.