If you want your book to have a chance of becoming a bestseller, marketing it properly is just as important as writing a good story. The more people buy your book, the more likely it is that it will become a bestseller. And the way to get people to buy and read your book is to promote it. Here's how to promote a book as a self-published author:
1. Use KDP Select.
Using KDP Select requires you to give exclusive rights to your ebook to Amazon for a period of 90 days. Discounting usually significantly improves visibility and sales, and during any 5 days of this period, you can offer a countdown deal or your book for free. You will get the highest royalty rate for any book sales that happen during this program and that means that 70% of sales go to you. KDP Select will also put your book into a subscription service Kindle Unlimited which will help subscribers find and read your book. You will be paid depending on the number of pages that people read. If you like using KDP Select there's no limit to the number of times you could re-enroll in this program.
2. Use Amazon Author Central.
When you're learning how to promote a book you need to learn how to promote yourself as the author as well. Creating the Author Central account lets you have your own author page on Amazon. This is where your biography will be along with any videos, photos, events as well as details about your book. This page will be attached to all your sales pages where you're selling books on Amazon. You can choose what you want to write on your page and share the link to your page on social media or put it in your email signature.
3. Use the Expanded Distribution program.
Would you like your book to be available at various online retailers as well as physical libraries, bookstores, and academic institutions across the United States? You can do this if you use the Expanded Distribution program. If you enroll, distributors are going to list your book in their catalogs, and it will be available for orders by libraries and sellers that the distributor works with.
4. Use book promotion sites.
You don't have to do everything on your own. There are free and paid book promotion sites that will promote your book for you. Some of the most popular ones are Bookbub and Book Gorilla. They will recommend your book to their subscribers and help you get more readers and book reviews. You will have to give a minimum discount of 50% or offer your book for free for a limited period.
5. Use the Goodreads Author program.
Create your own author's page on Goodreads and use it as a promotional platform. Add your book to Listopia, share about yourself, talk about your book, seek reviews, host discussions, and organize book giveaways, all on Goodreads. Having an online presence as an author is an important part o learning how to promote your book.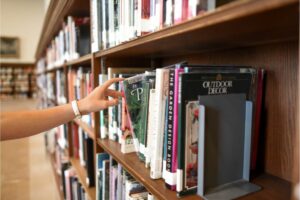 6. Write a great description.
Maybe you have an amazing cover, but what about the back cover? You need to write a blurb for the back cover. Write approximately 100-150 words. Have a great opening line followed by a hint about the plot and end with a cliffhanger. Don't forget that people actually do judge a book by its cover!
7. Create an audiobook.
Audiobooks are very popular, so offer your book in all formats! It lets your readers listen to your story and have their hands free to drive, cook, or whatever it is that they're doing. Learn more about how to create an audiobook by yourself or by hiring someone to create it for you!
8. Create a book trailer.
The book trailer is a video that promotes your book and you can use it on your website or in Facebook ads. Creating a book trailer is not as difficult as it seems, and you can even make one yourself.
9. Add more categories.
Once you upload your book to KDP you will get to choose two categories that your book falls into. You'll have this option for each format that your book is available in, but you're probably going to choose the same two categories for every format. There is a way to get your book into more categories though! Simply go to KDP Support and choose "Update Amazon Categories" which will be seen in the sidebar. Send one email per book, and make sure that it includes the categories that you'd like to add.
10. Create a reader magnet.
A reader magnet is something that you're offering for free, most likely an ebook or a chapter. If your readers want the free book, they will need to sign up for the mailing list. Once you have their emails, you know what to do next.