Home remodeling can help you transform nearly any part of your house to make it more functional and attractive. Plus, it can also add value to your property, especially if you focus on vital areas like bathrooms and kitchens. However, a home remodeling project is overwhelming, to say the least between deciding on the part of the house to renovate first and the appropriate budget for the project, there are a lot of things to consider when renovating your home, not to mention the synchronization it requires with the contractors, designers, and other parties involved.
Fortunately, with proper planning, your home renovation project can go smoothly. Here are some of the things you need to know before starting your home remodeling project.
Have A Clear Vision Of The End Result
Before deciding how extensively to renovate your house, you must first choose your ultimate aim for it. Are you upgrading to increase the selling value of your property, or are you planning to stay for many years? Before you begin, assess the current state of your area and choose which upgrades will provide a fair ROI and which would be regarded as extreme for the region. Having a detailed strategy for your future can help you decide the right steps for your renovation project.
Decide on the Style and Design Appropriate for Your Home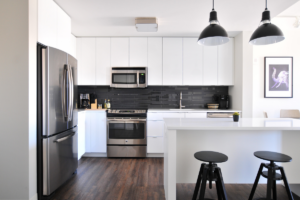 If you're remodeling your entire home, you'll generally want each room to have a consistent design and style – at least in the open area, such as the kitchen and family room. Smaller areas, such as bedrooms and bathroom, may allow you to be more creative or shows various people's tastes. In addition to project blueprints, getting inspired ideas from Pinterest or magazines can guarantee that you and your contractor are on the same page.
Set Your Budget
After you've selected what improvements you want to make, it's time to think about your budget. The expense of home renovation may easily spiral out of control, which is why you must have a clear grasp of your budget and how much flexibility you have.
It's time to revisit the items that inspired you and pay close attention to the prices. In some cases, you will need to compromise and determine what is most important to you. For instance, do you really need to install a heated floor in your bathroom, or would a soaking tub be more enjoyable?
Create A Realistic Schedule
Renovations are certain to take longer than planned. So, it is critical to plan ahead of time for accommodations to minimize difficulty and stress. A home remodeling project involves numerous trades and follows a set of activities. The contractor functions direct all of the participants in a logical order to ensure the project runs as it should.
As a result, it is wise to set realistic expectations while upgrading your home. Make sure everything else, such as your other living arrangements, supplies, job, education, business, and so on, is functioning well in the background while you renovate your house. Home improvements should not be difficult or time-consuming if well planned.
Do Your Research
A home remodeling project is a huge investment, so you'll want to take the time to do your research. For starters, talk to friends, relatives, and neighbors about their home remodeling projects and the problems they faced along the way. A series of knowledge from people who have walked in your footsteps can be valuable in the planning process, and this information may impact your final strategy.
Work with the Best Contractor
Choosing a contractor for your remodeling project is perhaps the most important choice you will make. Throughout the duration of your project, this professional will be your best friend – or worst adversary. Spend far more time researching and selecting your contractor than you spent deciding on your style and selecting your fixtures.
Consider all of the aspects of project management for which a home remodeling contractor is accountable. A contractor has several things to attend to, from obtaining building permits to assembling a qualified construction team. How can you be certain the company is up to the task?
You should, at the very least, inquire about licensing and bonding, and don't forget about insurance. Check with a local or state agency to see if there have been any complaints made against your prospective home remodeling agency or if there is a history of liens. Make sure you collect references, or better yet, use a reliable referral source to perform the majority of the legwork for you.