One of the best things about cruising is its versatility. It presents an opportunity to visit different ports and participate in shore excursions. Scuba diving in Key Largo, Florida, or after hours in the Virgin Islands anyone? And then there are various activities to take part in, from night parties to fancy dinners and full spa treatments. But you may not enjoy all these if you do not pack appropriately, especially since you can't rush to the mall to get something. Sure, you only unpack once, and you can bring a little too much, but how much is too much? What are some of the absolute items you should not miss in your bag? Read on for cruise packing tips for your first cruise. 
Full-Sized Suitcase for Your Cruise Packing
Most cruise lines do not limit the luggage you can carry, except for a few chartered ships, which may limit the passengers based on weight. Therefore, when cruise packing you need to go for a medium or large-sized bag without going for an oversized one since the cruise cabins may be small. Ideally, your suitcase should fit under your bed once you have unpacked all your items. Remember that if you are flying to where the port is, you may need to adhere to the 50-pound weight restriction enforced by most airlines. Therefore, as you pack, try to fit all your items in a reasonably sized suitcase. 
A Tote Bag
For shore expeditions or a day by the pool, you will need your tote bag to fit in the day's items such as:
Swimsuits

Sunscreen 

A book 

Wallet 
Once you have unpacked, you will only be using the essential items you need for every activity hence the need for a carry-on bag. Moreover, your luggage may take some time to arrive in your cabin; therefore, your tote bag should have some of the necessary items you will need to kick start your stay.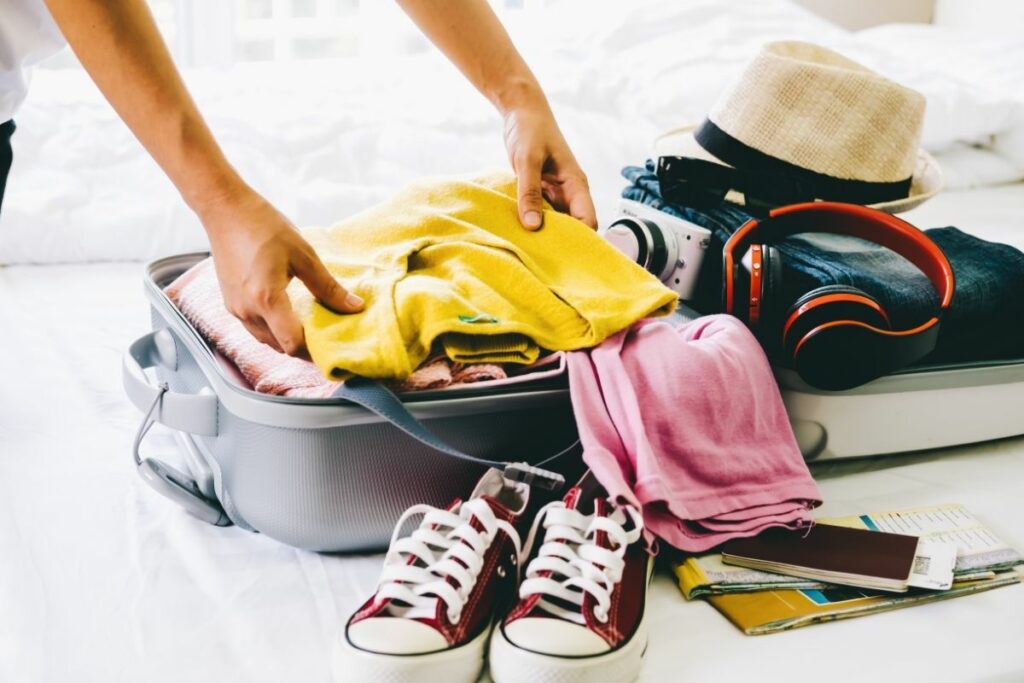 Travel Documents
Some of the essential travel documents you will need include:
Visa 

Passport

Driver's license 

Confirmation information about your cruise 

Health insurance card 
These documents are essential to make your cruise experience smooth and should come first in your cruise packing list. On a closed-loop cruise where you depart from and return to the same port after going through at least one international port, you may not be required to have your passport but your driver's license or any other photo identification. 
Toiletries
Like hotels, most cruise ships provide toiletries, soap, and shampoos. But it would be best if you carried your own to avoid worrying about allergies and ensure that you can carry out your skincare or other routines even when you are in transit. Additionally, most cruise ships may not provide personal items such as tweezers, shaving crèmes, and deodorants. Therefore, you need to note down all the toiletries you will need in your cruise packing list and pack them one by one. 
First Aid Kit
While you may purchase first aid supplies on board, they may be quite pricey. Therefore, you need to pack a small bag with first aid essentials such as:
Painkillers 

Allergy medications 

Bandages 

Remedies for your stomach in case you get seasick 

Antibacterial wipes 
Not to be morbid, but in case you fall sick or get injured during the cruise, you should be able to mitigate the situation to prevent it from escalating. Therefore, having a fully effective first aid kit is essential. If possible, you can seek advice from a medical doctor on some items you should stock up in your first aid bag. 
Cruise-Friendly Clothes
Cruise attires are usually a dilemma for most people when packing. Before cruise packing, check the weather in the cruise ports you visit. For example, the Caribbean tends to be hot all year round, while an Alaska cruise may require more warm clothes. Furthermore, you will need to consider the number of days your cruise will take. 
For a five-day itinerary, you may need to change clothes several times a day; therefore, ensure you carry enough. Some cruise ships do not offer laundry services, while others do, so you also need to look out for that. Find out the type of activities you will participate in and the formal and informal events that will be held on the cruise ship. All these factors will help you come up with a cruise packing list of the relevant clothes you will need during the trip. 
Final Take
Going on your first cruise is exciting, and amid the excitement, you may forget to carry some essential items that can contribute to fun times on the cruise. Therefore, before packing, come up with a cruise packing list of the items you will need, and then tick each off the list as you pack. Remember, you are not going for a year-long voyage, so ensure you only carry the necessities.