Obviously, fruits and vegetables are an important part of a healthy diet. Sure, sometimes you might reach for some fruit, but how often do you eat vegetables? If you're looking for creative ways to eat more vegetables, you're in the right place. The truth is, most people don't eat the recommended number of servings a day which would be four to five servings of vegetables. Because of this, they might not get their daily dose of vitamin A, potassium, fiber, folate, and many more healthy nutrients that can be found in vegetables. Fiber is especially important in weight loss because it helps you feel like you've eaten enough. Maybe you don't eat vegetables that often purely because of the way you prepare them. Steamed broccoli can be boring, but if you roast it and cover it with cheese it's a whole different story! Here's how you can trick yourself into eating healthier:
1. Turn vegetables into snacks.
One of the creative ways to eat more vegetables is to reach for them when you're craving a snack. To make this easier for yourself, have the vegetables ready and chopped up in your fridge. You can try dipping celery into peanut butter, dipping cucumbers and carrots into hummus or simply snack on vegetables cut into small pieces and poured into a bowl. Snacking on vegetables can take some getting used to, but if you persist in doing it, it can turn into a healthy habit that can also be quite tasty.
2. Make chips out of vegetables.
Maybe the vegetables on their own don't remind you of a snack enough to reach for them when you're craving something to snack on. Would you like chips though? Sure, you can cut sweet potato into thin slices and bake them to make chips, but you can also make chips from kale, Brussels sprouts, or beets. Add a little salt on the leaves or slices before baking them and serve them as a healthy alternative to chips that even kids can't resist!
3. Make vegetable noodles.
Yes, you can actually make noodles out of vegetables and use them as a replacement for pasta. This is one of the creative ways to eat more vegetables that you must try, and you will need a spiralizer. If you don't have one, a vegetable peeler can instead help you create long noodles. You can use beets, carrots, turnips, sweet potatoes, or zucchini. These noodles go great with seafood but feel free to experiment and create different dishes with noodles made from different vegetables.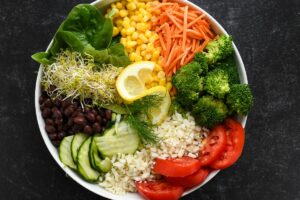 4. Use lettuce to make a wrap.
What do you normally use to wrap up your favorite ingredients? Make a wrap by using lettuce to cut down on your intake of carbs and calories. There are a lot of lettuce wrap recipes that you can try, but you can also simply wrap up the sandwich fillings that you like best. Swiss chard, cabbage leaves, lettuce leaves, lacinato kale… They all work great as creative ways to eat more vegetables and wrap things up.
5. Make veggie soup.
Veggie soups are a great way to decrease your calorie intake and one of the creative ways to eat more vegetables. Try out different veggie soup recipes and eat soup for breakfast or as a snack, not just as an addition to your meal. A lot of products can fit inside your soup pot and you won't even notice that you're consuming a lot of healthy nutrients from different kinds of vegetables.
6. Make smoothies.
Another great option for either a snack or breakfast or both is smoothies. Normally, smoothies are made from fruit, milk, water, and ice, but you can also add vegetables without losing the flavor. Green smoothies are especially healthy and you can make them from fresh, leafy greens such as kale and cucumber in a combination with bananas and blueberries. Find more smoothie recipes online and eat them in between meals because this will also help you lose weight.
7. Make a salad.
A salad can be served with basically any meal, and it can be a meal of its own as well. So, make salads from vegetables and don't focus only on traditional ones. There are even veggie-based dressings that you can try using instead of vinegar and classic oil. Use zucchini, squash, beet, tomato, or avocado. Don't forget to also add vegetables to your regular meals and make sure to opt for a salad instead sometimes. It can be a delicious breakfast or even a better snack! Make a habit out of eating salads and you will surely get your daily dose of vegetables.