A strong digital presence is mandatory for businesses to flourish in the current era. WP is one of the best content management systems for websites for all business types. It is a free-to-use platform that offers customization options and plugins suitable for each niche. Utilizing WordPress plugins for business websites offer the best design and functionality features.  As a result, your business gets a boost and your brand value is enhanced.
Top WordPress Plugins For Bussiness Websites
Plugins are a vital part of the WP ecosystem as they offer a wide range of features. Currently, the WordPress directory contains more than 50,000 plugins.
The best WordPress plugins that can be incorporated into business websites for a stronger digital profile are listed below:
Yoast SEO
Yoast SEO is the most popular and commonly used plugin offered by WP. It offers amazing features that encourage you to tailor your content around the focus keyword.
The Yoast SEO plugin calculates the keyword density and helps you in optimizing your content. This enables the google crawlers to grab the context of the content and rank it better on google pages. It also suggests formatting and keyword placement options to make your content visually attractive and readable.
The toast plugin also offers suggestions for an appropriate title and meta-description to make your web page look good among google results.
Following instructions on the Yoast SEO plugin boosts your website's Google ranking and improve the CTR. This helps your business grow by attracting more organic users to your webpage.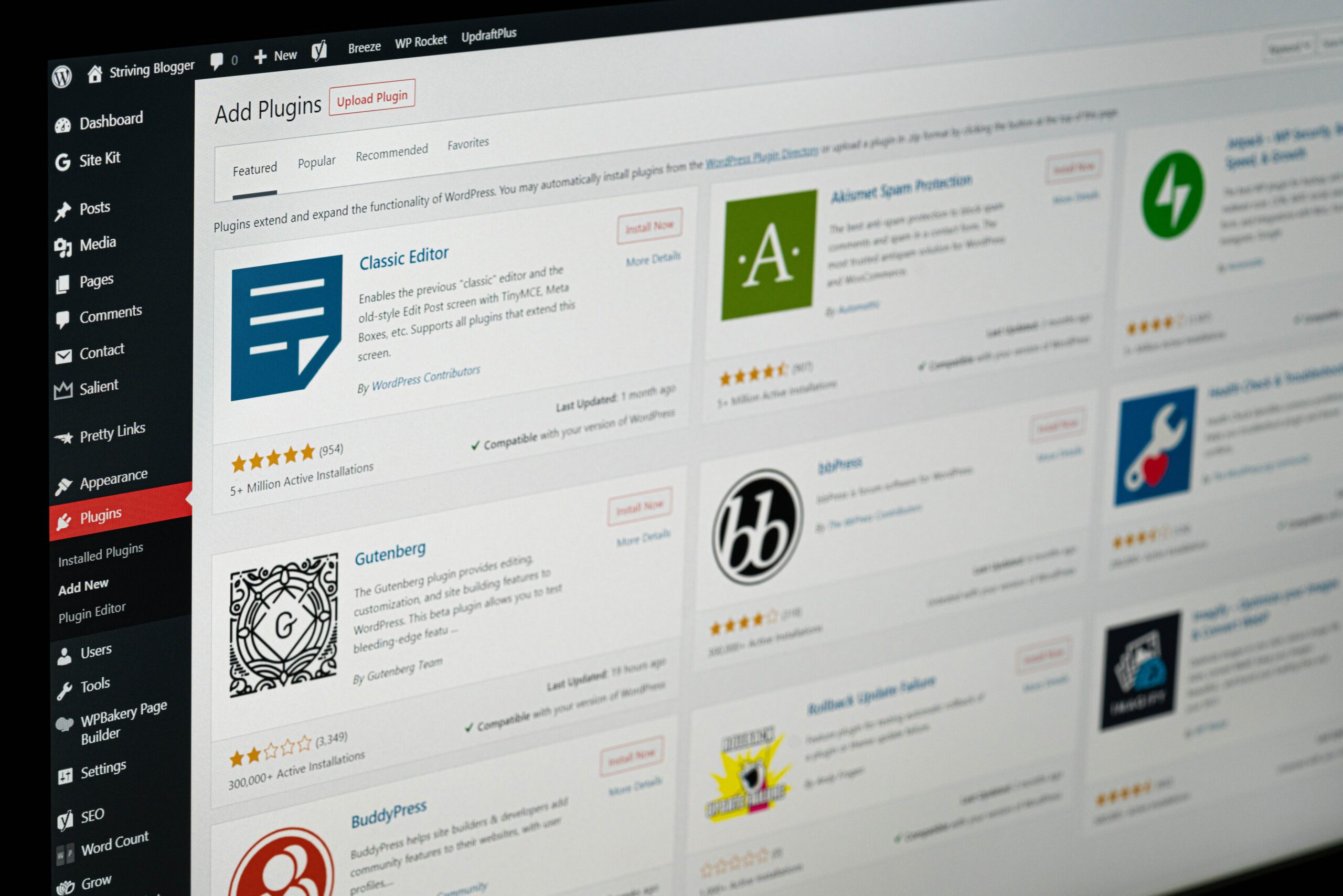 Contact Form 7
This plugin has been designed to cater to your business web site's contact form requirements. Multiple forms can be created through this plugin. It also helps you in managing all your contact forms.
You can customize your forms according to the needs and demands of your business type. Each page can be redesigned and customized as per your needs and then integrated into the contact us page using this plugin.
The personalization of contact forms gives you the freedom to incorporate all your required fields into the contact us pages.
This plugin offers seamless integration of your business aspects into a simple contact us form.
Akismet Anti-Spam
The websites for businesses are designed to ensure that customer-bussiness interaction is seamless and quick. One of the easiest ways to collect customer feedback is to enable comments. This plugin is a perfect option to add a comments section to any portion of your website.
It filters out the spam comments and allows genuine comments only and protects your webpage from malicious content. This anti-spam plugin is a great choice for keeping your website's content trustworthy and original.
Jetpack
Jetpack is a combination of various services your bussiness website needs. The basic goal of this plugin is to drive traffic to your webpage. It is responsible for improving the number of visitors to your site and keeping them engaged.
Jetpack also represents important information related to the number of visits to a webpage and which pages are opened more frequently.
You can also share your website's content on social media platforms like Facebook, Twitter, Instagram, etc with the help of this plugin. The security features of jetpack protect your websites from malicious attacks in addition to monitoring the up-time and down-time of the site. It also provides adding two-factor authentication to your web pages for an added layer of security.
WooCommerce
WooCommerce is a perfect plugin for e-commerce websites. It offers a variety of features required to run an online business that involves buying and selling different products and services. It offers various options for shipping rates and you can choose any of those as per your business demands.
It also allows adding payment methods to your website and works with commonly used credit card service providers. You can customize the look and feel of your online store according to your personal preferences using this plugin.
Google XML
This plugin helps you in improving the Google rankings of your WordPress business website. It helps in better indexing your web pages and increasing their visibility.
The plugin encourages crawlers to visualize your website's structure and information.
Whenever you upload a new blog post to your site, this plugin informs the common search engines about it. As a result, the crawlers crawl through your web pages and rank them. This will have a positive impact on the conversion rate of your bussiness.
Wordfence Security
This plugin protects your websites using a firewall. All the brutal and complex attacks directed at your websites are protected by this plugin. The security alerts allow you to stay aware of the threats and prevent them.
All the above-mentioned WordPress Plugins For Business Websites are extremely effective in making your online presence stronger and improving your conversion rate.